Faeriegill's Needful Things and Wishes on Etsy.com
My Etsy store offers Tarot, Rune and Oracle readings by email. My readings are empathic, intuitive and from the heart. I have been reading Tarot for over 25 years now, and I meditate to make a connection prior to doing my readings. When I read, I see what I feel with the cards, I let the cards speak to me and the only way I can describe it is like a story unfolding, often all I have from the querent is an email address and date of birth. I feel like I am channelling the information through the cards as a tool, from a higher source.
I love doing spell work and offer these for sale too, some of them are in pdf form sold as individual spells or as a mini book of shadows which has been popular. I also sell pdf information I have put together on the Tarot and Angels. I also sell mini spell kits too, that is everything needed for to do a spell in one place, saving the client trying to find the ingredients on separately, all that is required on their part is their input and belief.
I am a Usui and Celtic Reiki master and offer my Reiki services in my Etsy store, I offer attunements as well as Celtic Reiki spellwork healing services. I feel a much closer connection with Celtic Reiki for some reason and I feel it is because I have a strong connection to the fae.
I love making jewellery, not complex peices, but bracelets, earrings and kilt pin brooches and have started selling these on my Etsy store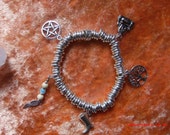 I have also started making divination pendulums too and made a beautiful one as a gift for a professional medium who felt I should sell these, so it has inspired me to make them and start selling them on my store. My pendulums are made from recycled materials such as beads, old jewellery and yes a little bit of history too, like ancient clay pipes, pottery and glass as I feel that the old combined with the new, gives bonding and strength.
I also make magickal oils for my store and bath salts and a lovely calendula ointment, which although not been tested is full of natural ingredients and has been used by me and many of my friends for years and we have not had any adverse reaction at any time. I make all my products with love and charge them on my altar too. To see more just check my shop out at
faeriegill.Etsy.com